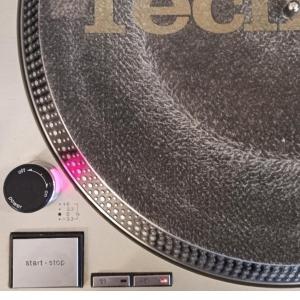 Choose your vinyl record size according to the playback times of your music tracks.
You may already know that a 12" LP record (diameter ca. 30 cm) can hold more playback minutes compared to a 7" single (diameter ca. 18 cm) . A 10" dubplate (diameter approx. 25 cm) falls in between in terms of size and playback time.
Are the playback speeds (RPM) confusing? Don't panic!
RPM stands for Rotations Per Minute. It represents the number of revolutions the vinyl record makes on the turntable.
A 7" single with a large center hole is rather for jukebox use. By default, a 7" jukebox plays vinyl records at 45 RPM. We do also can cut your 7" single with a small center hole at 33 RPM. This is then meant to be played on a standard record player.
The classic dubplate format, namely 10", is traditionally cut at 45RPM. But, flexible as we are, you can of course also choose 33RPM. Anything goes!
A self-composed 12" LP, provided with a lot of songs, in order to create your own mixtape on vinyl, we gladly cut at 33RPM. This allows you a maximum of playback minutes per side.
However, does it concern very dynamic 'dance' music? Then limit to about 10 to 12 minutes per side. That way you can opt for a playback speed of 45RPM and we can cut the songs you provide even 'louder' on vinyl! Bang!
And what about the center labels and/or outer cover sleeve?
Of course, you can happily provide your own designed artwork during the online ordering process.
What could be more fun than your own chosen music on a vinyl record, which comes with personalized center labels AND a fully personalized outer cover sleeve?
As an original gift, or as a treat to yourself. Great!
Download the templates here or send us a message through our contact form and receive the templates/explanations to get started with the design of your centerlabels and outer cover sleeve. And yes, this can be done for all sizes of vinyl records!
24 November 2022